Follow my blog with Bloglovin
I love Prague or Praha as it's pronounced in Czech. After Garmisch-Partenkirchen, it is my most visited city in Europe. For good reason, Prague doesn't need a brochure to sell itself, its the capital of the Czech Republic! Only 30 years ago, Prague was a mystery to world travelers, now, it's one of the most popular destinations in Europe. If you're visiting Prague, here's a list of my favorite things to do and see while you're there.
+ Take a free walking tour
I love walking Tours. In big cities, Sandeman's offers free walking tours, so far they've been my favorite, but there are other ones to choose from in Prague. On these tours you'll learn history, see the main attractions, etc. All the tour companies meet near the astronomical clock in the Old Town Square. They will give you an overview of the main sites like the Old Town Square, Charles Bridge, Prague Castle, the Jewish Quarter, and more.
+ Old Town Square
During Christmas and Easter Old Town is decked with markets and vendors (including food) that bring the city to life. Walk around it a couple of times and you will find everything you could possibly be looking for, from pub crawls and magic to break dance shows, you will never have enough of its vibrant energy.


+ Astronomical Clock
This clock is over 600 years old, it is one of the oldest, functioning astronomical clocks in the world. Every hour you can watch the clock come to life. Make sure you get there early, since it is located in the Old Town Square, this is a major tourist spot.
+ Lennon Wall
The John Lennon Wall is the Czech expression of freedom from the communist era. It's tucked away in a quiet street away from the hustle and bustle (you'll have to look for it) it is a colorful tribute to the Beatles singer and a symbol of love and peace. Today, the wall represents love and peace. Tourists are allowed to write or paint on it too.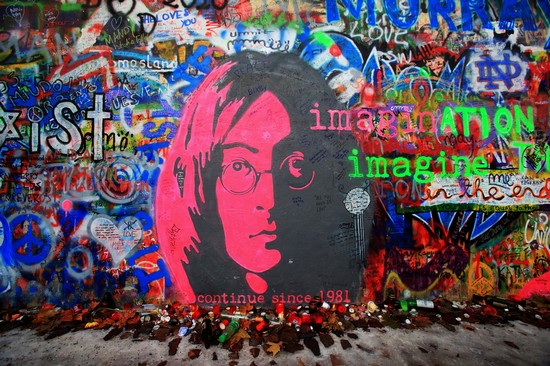 Image via, http://czechmatediary.com/
+ Prague Castle & St. Vitus Cathedral
The Guinness book of World Records states that the Prague Castle, dates back to the 9th century, is the largest ancient castle in the world. This beautiful structure is the inspiration for fairy tales, films and television shows. Today, it is one of the most substantial remnants of medieval times. The Castle is really more of a small town that sits at the top of a hill, overlooking the city.
+ Charles Bridge
The Charles bridge is a 1,700-foot long medieval walking bridge that connects two sides of Prague, over the Vltava River. It was completed in the 15th century. It's completely free of cars, but during the day time it is crowded by vendors, street artist, musicians, etc. Here you'll find gorgeous views of the Vltava River and the iconic Prague Castle.


+ Watch a Street Performance
Prague is known for their street performers, from magic acts, to musicians, and bubble makers. Anything you can think of, you'll probably find it on the streets of Prague. Make sure to stop and watch for a minute. It's pretty amazing to see such raw talent for free!
+ Eat Czech Food
I don't know what it is, but Czech Food is amazing. Make sure to grab a glass of their Pilsener Urquell, made in Pilsen, >~1 hr from Prague. What's my favorite? Their pork dishes and bread dumplings are my favorite. There are so many amazing places to stop and eat while in Prague. Feel free to take your pick. If you're a foodie, you will fall in love with the Czech Republic. Make sure to grab a Trdelník, famous Czech pastry, filled with cinnamon, nutella, or ice cream!


Other things to check out:
Old Jewish Cemetary
Prague National Theater
Dancing House
Clenentinum (Famous Library)
Petřín Lookout Tower
Heard enough? This is just a handful of things available for you to see Prague is a city that sure knows how to impress. Trust me when I say, Prague is a city you don't want to skip! I can go on an on about the beautiful things to do and see in Prague, but the only way you'll be able to fall in love with this magical city would be for you to get lost in it. You'll never know what you'll find hiding behind a random corner.